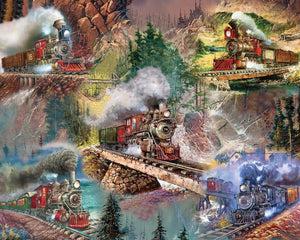 Thrilling Trains 1000 Piece Jigsaw Puzzle
Hear the howl of a lone whistle echoing through the wild terrain. Locomotives lead a cargo of freights or passenger liners as they journey from sea to shining sea.
As if from the covers of Western dime novels, this collage puzzle of American steam engines showcases the ingenuity of a new age in industry and the adventure that lay in the West.
Thrilling Trains is your ticket to hours of entertainment.
Features
Piece Count: 1000

Measures 30" x 24"

Average Time to Complete: 8-10 hours.

For ages 3+