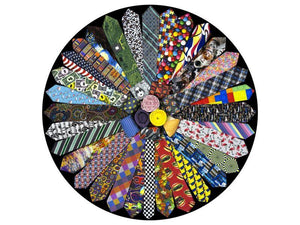 It's a Tie! 500 Piece Round Jigsaw Puzzle
By special request, Springbok presents a circular puzzle commemorative of the Kaleidoscope of Ties Circular 500 Piece Puzzle (1987).

This collection of neckties boasts vibrant hues and patterns from a traditional stripe to a circuit board and zany Mardi Gras mask print. Whether you have a special place in your heart for Springbok's vintage circle puzzles or are looking for that fun gift, It's a Tie! 500 piece is a clear winner.
Features
Pieces: 500 Pieces
Measures: 20" dia.
Average Time to Complete: 4-6 hours
For ages 3+